Peachtree EZ Square Table Saw Fence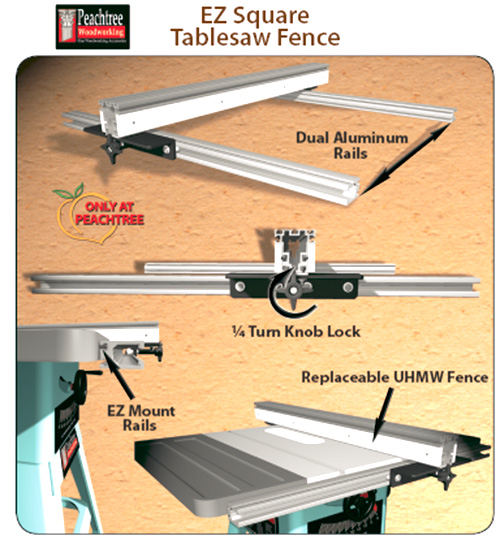 The EZ Square Table Saw Rip Fence is the perfect aftermarket fence for the woodworker who is serious about saving time and making straight cuts. The EZ Square Table Saw Fence is designed to be that dependable and extremely durable piece of equipment in your workshop that you can trust every time you use it. It takes a simple,
no-frills approach to do the job done right. Dual rails provide great stability and prevent any back end lift, as well as make the fence EZ to square. A simple 1/4 turn lock knob makes it simple to secure. The UHMW fence inserts are replaceable and better yet there is one on either side, so you can cut from either side of the fence.
Not to mention the UHMW are super slick for smooth operation. The EZ Mount Rails are just that, EZ to mount with industry standard 1/4" hex head bolts. T-Slots on the fence top and front and back faces let you mount all sorts of accessories like Board Buddies and Featherboards. T-Track mounting of the fence rails means the fence
rails can be adjusted to the left or right without re-drilling. The EZ Square Table Saw Fence fits most saws some drilling may be required.


No.
Description

Price

Quantity

1102

25" EZ Square Table Saw Fence

$239.99

1103

50" EZ Square Table Saw Fence

$329.99

Phone Order Only
Requires Additional Shipping Charge 1(888)512-9069 Toll Free