Freud Premier Fusion Saw Blade
The New Standard in General Purpose Saw Blades
The Premier Fusion saw blade is the most technologically advanced blade on the market! The 40-tooth X 1/8" standard kerf blade will give you the smoothest, cleanest cuts that you've ever seen from a general purpose saw blade! This blade provides superior performance in both cross cutting and ripping and features Freud-made TiCo Hi-Density Carbide. The blade is complete with Freud's patented Perma-SHIELD non-stick coating, which virtually eliminates heat generated from friction, prevents corrosion, and reduces pitch build- up and drag.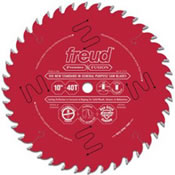 The Fusion tooth design fuses Freud's 30 degree Hi- ATB tooth with Freud's unique double side grind tooth geometry. The design provides a glass smooth side finish while also giving a flawless top and bottom finish in veneered plywood, hardwoods, and melamine.
The Premier Fusion General Purpose Saw Blade Features:
"Fusion" Tooth Design - Double side ground design fused with Hi-ATB tooth geometry gives glass smooth side finishes as well as a chip-free top and bottom during both ripping and crosscutting applications.
Perma-SHIELD Permanent Non-Stick Coating protects it against corrosion, gumming, and "pitch" build up.
Freud-made TiCo Hi-Density General Purpose Blend of Carbide is specifically blended for the ultimate in precision and long cutting life in general purpose applications.
The new anti-vibration reed design virtually eliminates all vibration and produces the cleanest cuts possible, making the use of a stabilizer or stiffner unnecessary.
Laser cut blades from high strength steel ensures that every saw blade body is precise.
Pre-tensioned blades assure that the blade will remain flat through the shocks from cutting and stresses from turning at high speeds.
Freud's Premier Fusion saw blade has been given the prestigious "Best New Tools of 2006" award in the December 2006 issue of Popular Woodworking.
No.
Description

Price

Quantity

Freud Premier Fusion P410 Saw Blade
10" x 40 Tooth x 1/8 " Standard Kerf x 5/8" Arbor Industrial Perma-SHIELD™ Coated Combination Blade

2263

Freud P410T Thin Kerf Premier Fusion Blade
10" x 40 Tooth x 3/32" Thin Kerf x 5/8" Arbor
Industrial Perma-SHIELD™ Coated Combination Blade.


$79.99