Freud Cove and Bead Router Bit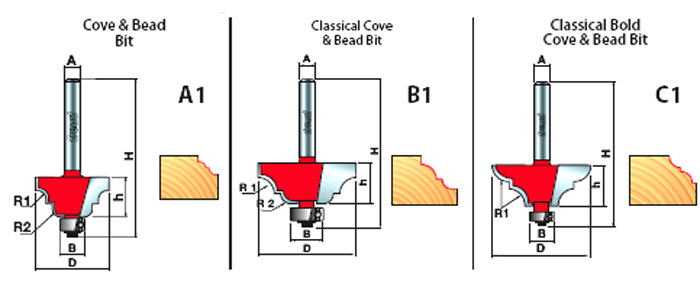 Application: Decorative edging for cabinets, molding and furniture.

You can add distinctive designs to your cabinets, furniture, plaques, molding and millwork projects with these decorative Cove and Bead, Classical Cove and Bead and Classical Bold Cove and Bead edging bits. Classic profiles for a clean, smooth and contemporary look and feel. These bits cut composition materials, plywoods, hardwoods, and softwoods. Use these bits on hand-held and table-mounted router set-ups.

Cat # 

Freud # 

D 

B 

h 

R1 

R2 

A 

H 

Price 

 

A1* 

2603

38-312 

1-5/32 "

3/8 "

5/8 "

1/8 "

-

1/2 "

2-9/16 "

$37.99

A1* 

2604

38-314 

1-9/16 "

3/8 "

23/32 "

1/4 "

-

1/2 "

2-3/4 "

$44.99

B1 

2605

38-352 

1-1/2 "

1/2 "

5/8 "

1/4 "

5/32 "

1/4 "

2-1/4 "

$40.99

 

B1* 

2606

38-362 

1-1/2 "

1/2 "

5/8 "

1/4 "

5/32 "

1/2 "

2-1/2 "

$42.99

 

C1 

2611

38-522 

1-1/4 "

3/8 "

7/16 "

3/16 "

-

1/4 "

2-1/16 "

$42.99

 

C1 

2612

38-524 

1-1/2 "

3/8 "

11/16 "

1/4 "

-

1/4 "

2-5/16 "

$45.99

 
*Quad Cut